---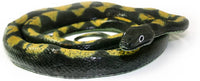 MameJo products are designed to be as realistic as possible. They are made with attention to detail. These high quality figures are hand painted

The high quality and detailed figure is constructed of heavy duty, durable rubber

These fake snakes are so realistic tat they make great gags and pranks to scare your friends, not only that they are so realistic that they are often used in gardens to scare unwanted rodents and birds.