---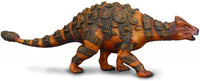 CollectA's detailed replica of Ankylosaurus is lifelike down to the club on its tail and the odd bony plates on its back. The huge armored dinosaur probably grew to as much as 35 feet in length and weighed between 3 - 4 tons. The plant-eating creature lived about 70 - 65 million years ago. The thick armor on the Ankylosaurus's back served as protection from large predators such as the T-Rex and others which lived during the same period. Fossil remains have been found in both the USA and Canada, and evidence of Ankylosaur tracks has been found in Bolivia. This beautifully sculpted, collectible figure from our Prehistoric Life Collection measures 6.7''L x 2''H. Each prehistoric figure in our collection has been approved by archeologist Anthony Beeson, a well-respected expert in paleoimagery. All CollectA models are individually hand crafted to the highest standards and made with the finest and safest phthalate-free, lead-free materials. Create a natural world in miniature with high quality toy replicas from CollectA. Our mission is to educate collectors and to provide the greatest oppportunity for creative play.
FUN FACTS: The name Ankylosaurus means "fused lizard". They were one of the last dinosaurs remaining before the large extinction event occured around this time. They were large and known for their body armor made up of huge plates of bone embedded into their skin.

PALEONTOLOGIST APPROVED: Working with experts from across the globe, Collecta hand-painted figurines are all factually accurate and paleontologist-approved, so little ones get to learn while they play.

AUTHENTICITY: Each prehistoric sculpture has been approved by Anthony Beeson, a well respected expert in palaeoimagery who is also an art librarian, archaeologist and collector, based in the city of Bristol, England.

SAFETY: All CollectA products are individually hand crafted with only the finest materials and rigorously tested to ensure they meet the highest safety standards.

PRODUCT SPECS: Ankylosaurus measures 6.7"L x 2"H.