---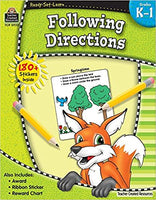 Being able to read, understand, and follow directions is an underrated skill that can have a positive effect on every worksheet and task your student is given in school. Ready•Set•Learn: Following Directions, Grades K–1 can be just the answer for giving your child the extra boost they need at home and on the go. This book is full of
fun activities that give early readers an opportunity to understand and follow a variety of instructions in order to complete a variety of tasks. This resource is 64 pages in all.
The Ready-Set-Learn series has just what parents want: 
Fun-filled activities that give children a head start on learning the basic skills needed for success in school. 
A small size (7" x 9") that is perfect for little hands and also for carrying on the go in backpacks, purses, or pockets. 
Colorful stickers that provide motivation.
An incentive chart to help highlight a child's progress. 
A ribbon sticker that rewards the child for a job well done. 
In all, the series includes 63 titles that focus on such foundational subjects and skills as the alphabet, numbers, reading, math, mazes, puzzles, word games, printing, cursive writing, and more.