---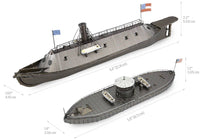 3d Metal Model Kit - MONITOR & MERRIMACK The Battle of the Ironclads, also known as the Battle of Hampton Roads, was fought over a two-day period during the American Civil War. This battle marked the first engagement between armor-plated warships heralding the evolution from wooden to steel military vessels.
HOBBY MODEL KIT – Unassembled model packed in an envelope with easy to follow instructions. Ideal for ages 14 and up

NO GLUE OR SOLDER NEEDED – Parts can be easily clipped from the metal sheets. Tweezers are the recommended tool for bending and twisting the connection tabs

FROM STEEL SHEETS TO 3D – Pop out the pieces and connect using tabs and holes. Includes illustrated instructions

HIGHLY DETAILED ETCHED MODEL – Display your 3D model once completed - collect and build them all.

Great option for STEM development. STEM toys encourage kids to develop skills in the core disciplines of science, technology, engineering, and mathematics. 

Promotes detail work, determination and perseverance as you, or your child works through this fun 3D puzzle.

Great collectible that displays beautifully on your shelf!