---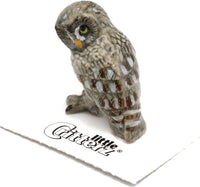 Little Critterz  are adorable, collectible carded miniature porcelain figurines, about 1.75 " high or long depending on the shape of each animal. Each is hand crafted and hand painted by skilled artisans to represent the unique color and detail of each animal. A perfect gift for your friends, family or yourself and a delightful addition to any collection. Packaged in a clear 2" x 2" recyclable plastic collector box.
Critter Tailz Fun Fact:The Great Gray Owl, sometimes known as the Phantom of the North, is the worldà longest owl. Fierce hunters, with few natural enemies, their incredible hearing allows them to locate, dive for and capture prey even in deep snow.
CAUTION! NOT A TOY.Decorative Item Only. WARNING! CHOKING HAZARD. Not for children under 3 years. Not intended for consumption or for use in stove, microwave or dishwasher.